Celebrating Our Community
We love to celebrate the work of our pupils in school at Fairfields. This page has been created to celebrate the work of the children in the wider community, outside school hours.
If your child has anything they would like to share and celebrate with us on this website page, please email in the details, and a photo if you are happy for us to attach it to this webpage, to admin@fairfields.hants.sch.uk.
Please scroll down to see what the children have been up to. We are very proud of them all and we are sure you will be too!
Week beginning Monday 17th October 2022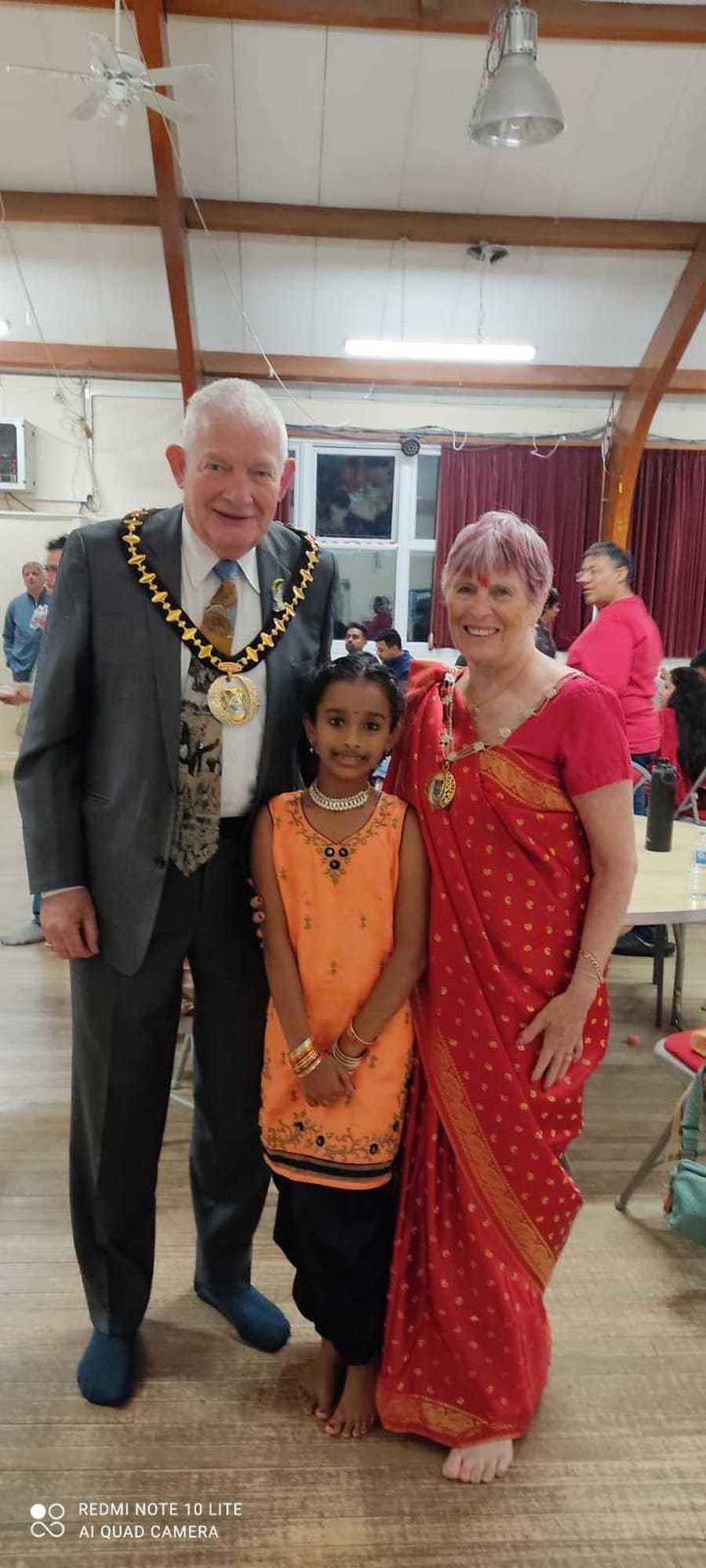 This is a photo of Ishwari with the Mayor of Basingstoke at one of the Cultural Programmes at Carnival Hall, Basingstoke. These photos were requested by the Mayor of Basingstoke with Ishwari which they might file on their official records as he was very impressed with Ishwari's Dance Performance.
Well done Ishwari- we are very proud of you! What a wonderful picture and fantastic achievement.
Week Beginning Monday 27th June 2022
This is a photo of Florin-Robert Matita-Paraschiv from Rome class winning the trophy for student of the week at kick boxing.
Well done Florin- what an amazing achievement! Great pictures and what a super trophy. We are very proud of you.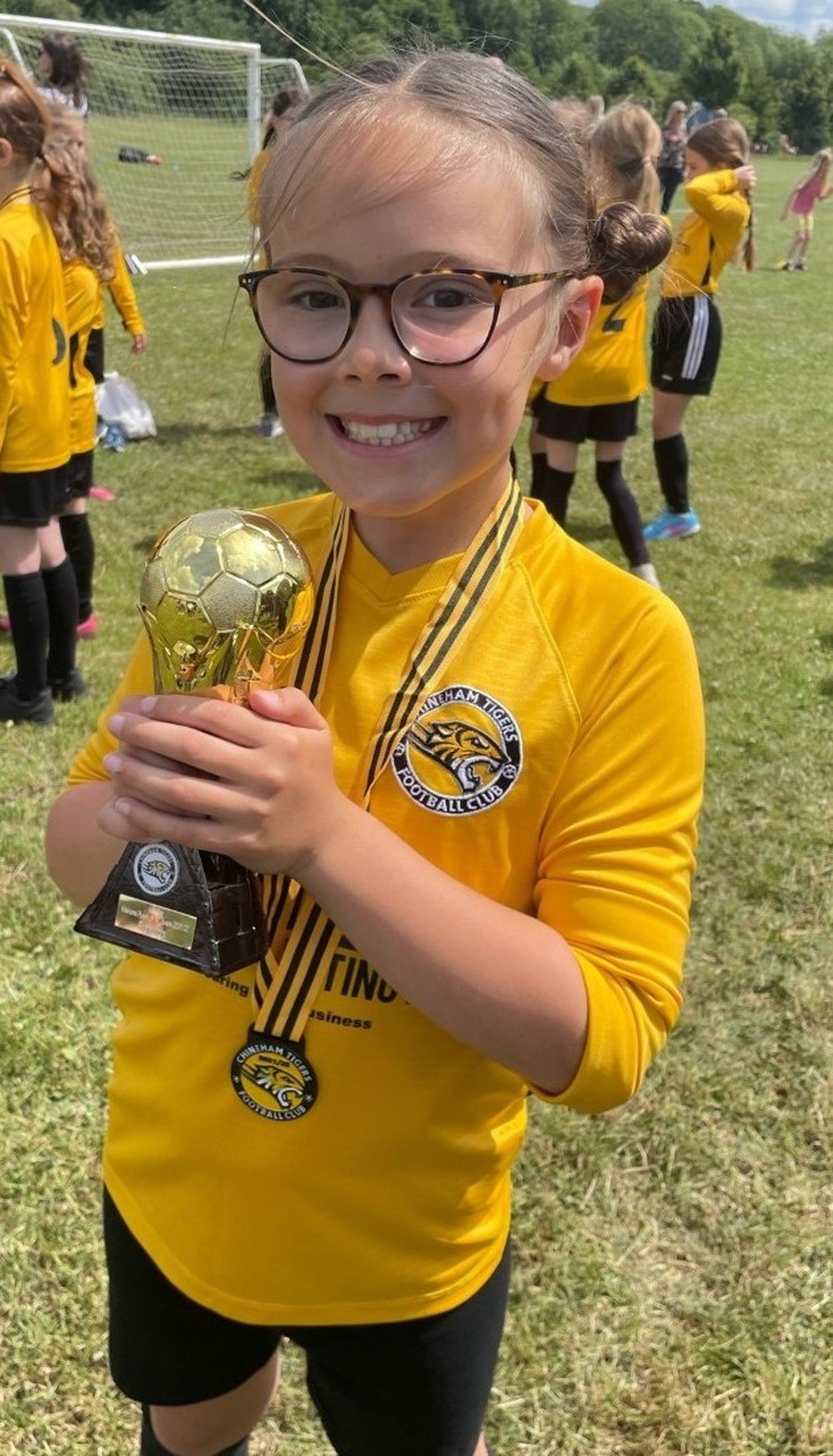 Ena has played for the Girls U9s Chineham Tigers football team for the last two years. Recently she has shown true team spirit and a real talent for the game. She has played brilliantly all season and on Saturday was recognised at the club presentation day as Manager's Player of the Season where she was awarded with a trophy! We are so proud! Well done Ena!
What an amazing achievement Ena- you quite rightly look so incredibly proud in your photo. Keep up the amazing work- you are a star!
Week Beginning Monday 6th June 2022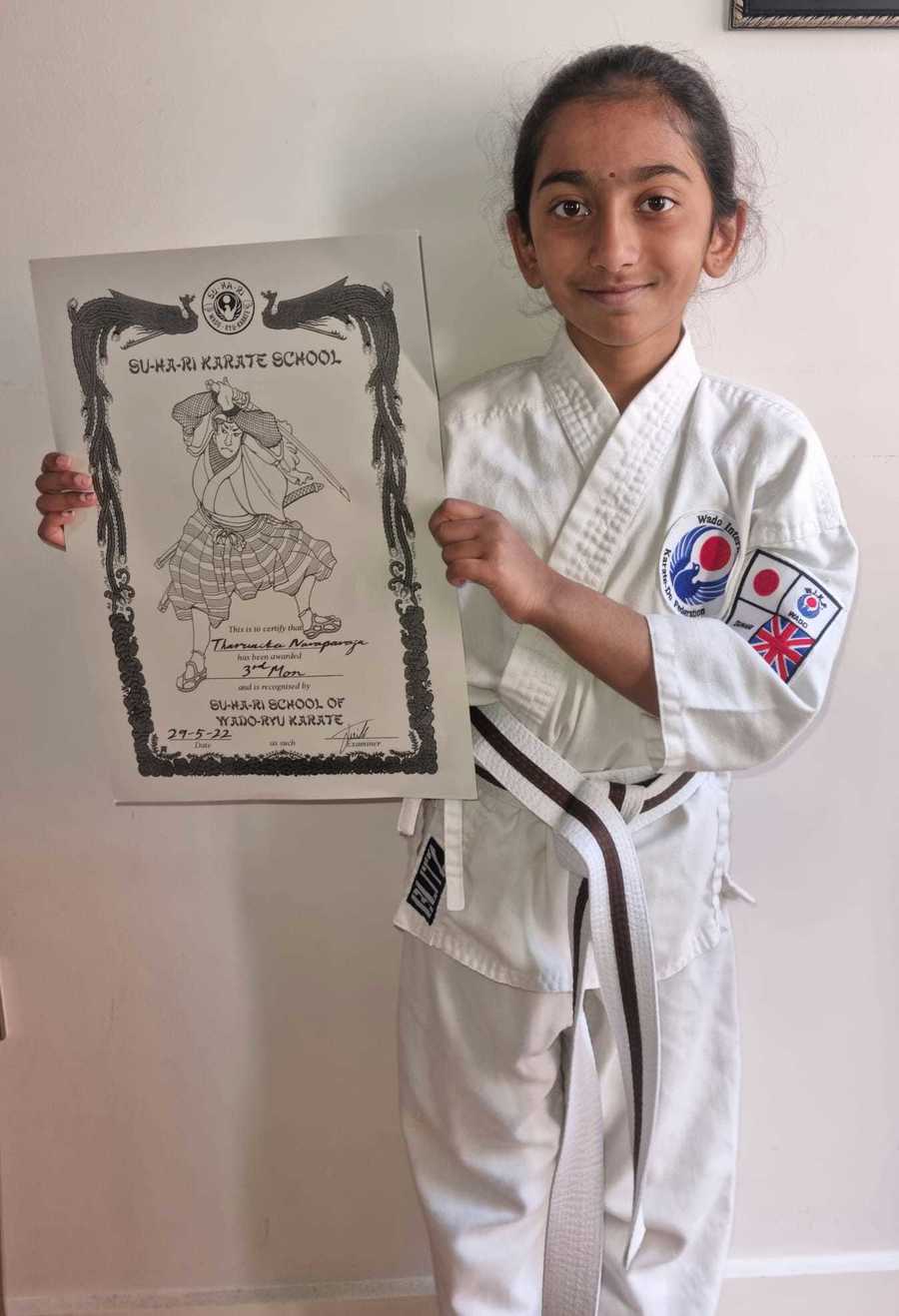 Tharunika from Canberra class received her certificate and belt for achieving her brown stripe in Karate. She attends karate classes every Friday evening. She has been going to karate for more than three years, and she thoroughly enjoys every moment there.
Well done Tharunika- what a brilliant achievement. We are all very proud of you. Keep up the excellent work.
Week Beginning Monday 9th May 2022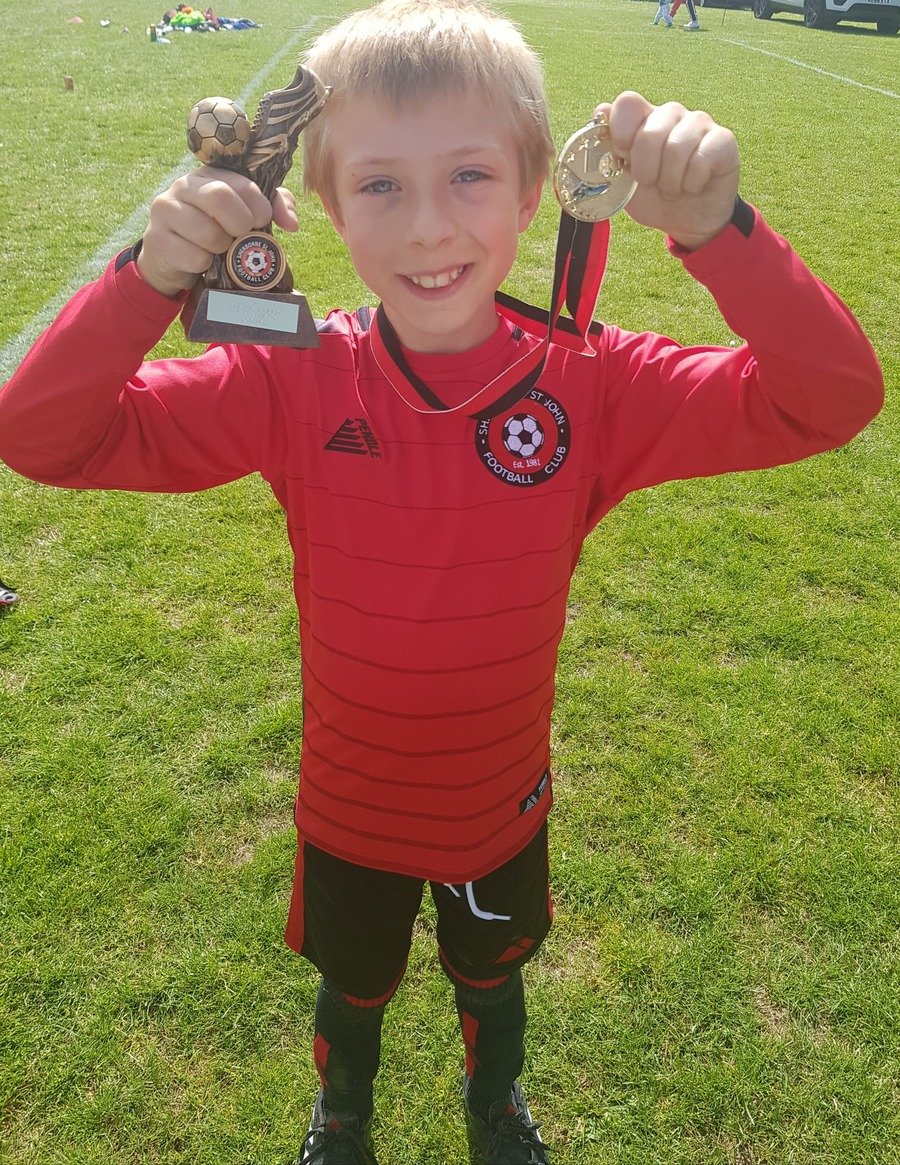 Benny plays football for Sherbourne St John U8's. On 8th May they held a family fun day with season trophies and a 6 team tournament. Each team was a country and Benny was in Wales. His team WON the tournament! It was extremely close and the final went down to penalties. He got a medal. He said it was the best day ever! Well done Benny- we are glad that you had a great day. An amazing achievement, especially after such a close match! Fantastic!
Week Beginning Monday 25th April 2022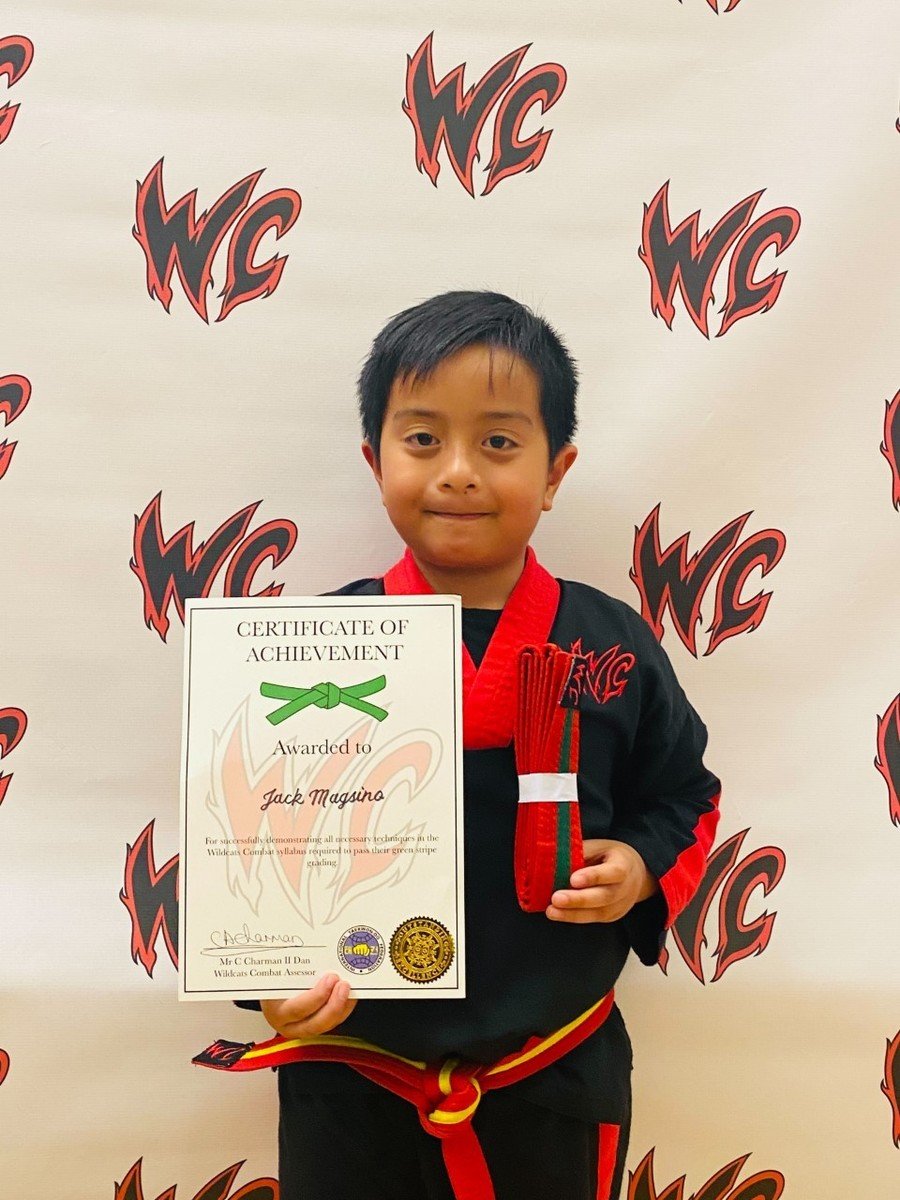 Jack received his certificate for achieving green stripe in Tae kwon do. He enjoys going to the classes
on Wednesdays after school.
Well done Jack- we are very proud of you. What an amazing talent, and a lovely photo!
Week Beginning Monday 28th March 2022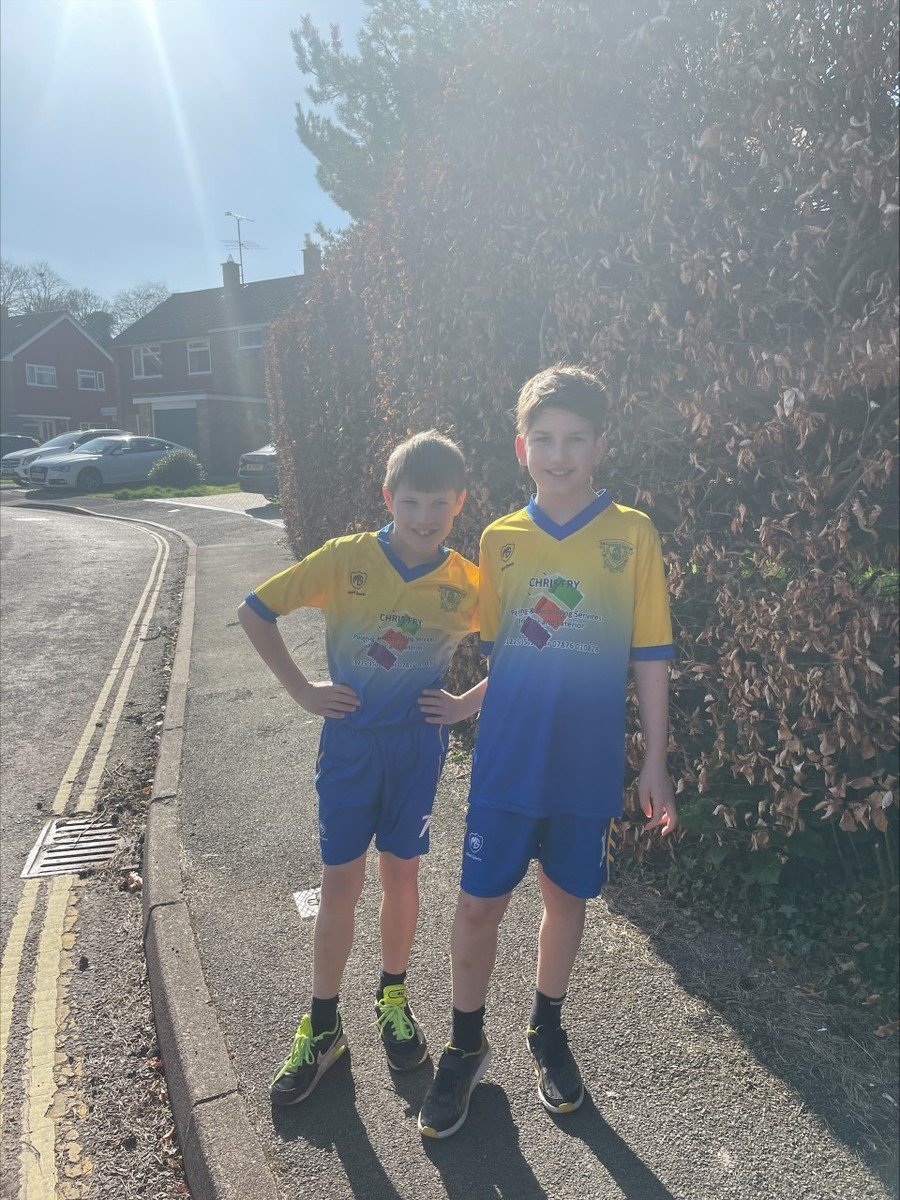 Joseph Bekatoros and Harry Thomas did a tag team 14 mile run with their football team around Basingstoke to raise money for Ukraine on Sunday. The boys have raised over £1000. We are super proud of their determination. Here is the link to the gazette as they were featured in it, the link to their page with more info and a picture of them at the beginning and end of the run. Well done boys and what an incredible achievement. Your fundraising will be really appreciated by all who will benefit from it- fantastic work!
Week Beginning Monday 28th February 2022
Edward in Warsaw class recently received his first Blue Peter badge. He earned his blue badge by writing into the show and telling them how he was inspired to try climbing at a climbing wall after seeing his favourite presenter complete a climbing challenge. He also sent them a picture of the presenters.
In addition to his badge, they sent him a signed picture of his favourite presenter!
Earning a badge has been an ambition of Edward's for a long time. He first sent a picture into Blue Peter when he was 4 1/2 but had to wait until he turned six to apply for a badge! He is already working on getting more badges!
Well done Edward! You should be very proud of yourself, for climbing the wall and gaining your Blue Peter badge! Brilliant work- well done.
Week Beginning Monday 7th February 2022
Lydia has achieved her blue belt in kickboxing this week. Well done Lydia. Fantastic work and an amazing achievement. You look brilliant in your blue belt! Well done.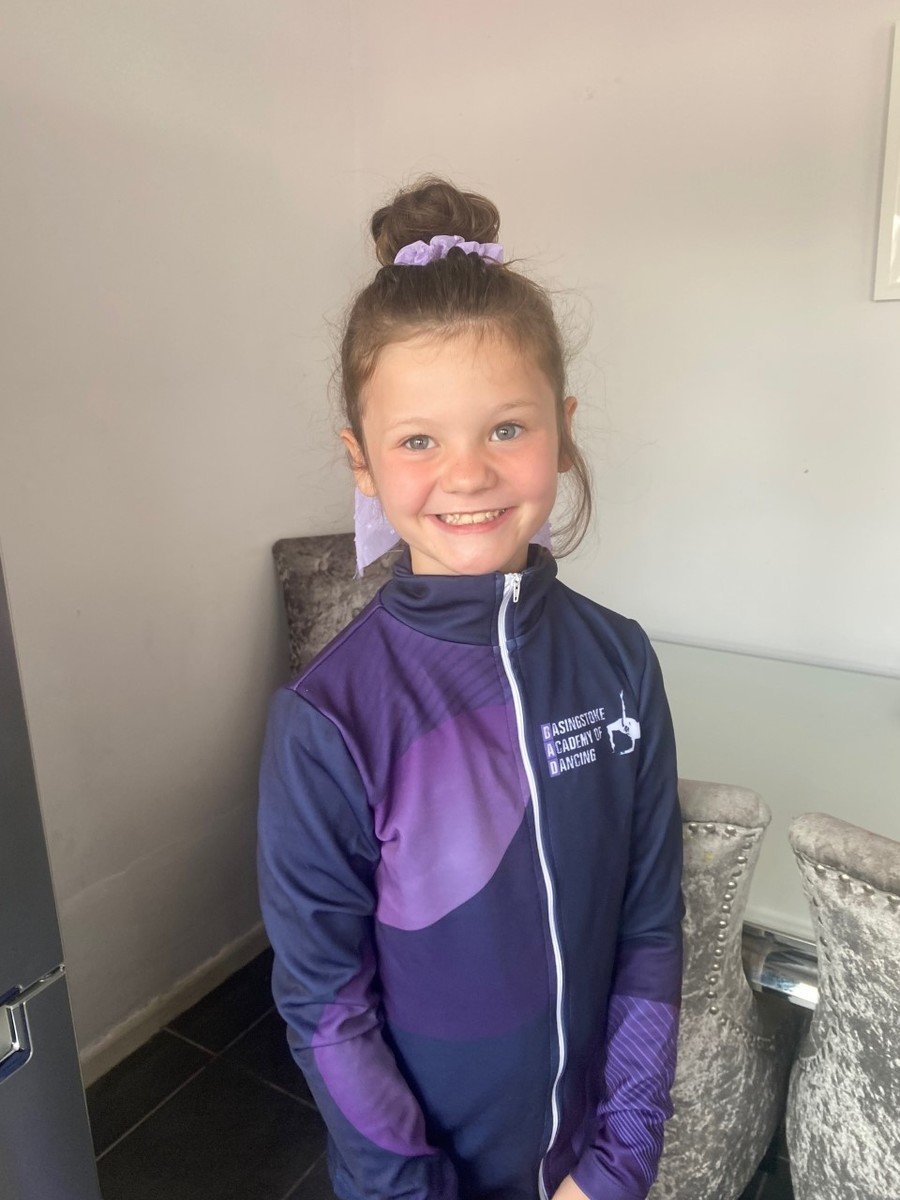 Freya is very proud to have been chosen to be a part of the dance World Cup team. What an incredible achievement Freya. We are so very proud of you, and you should be too! Well done!
Week Beginning Monday 7th February 2022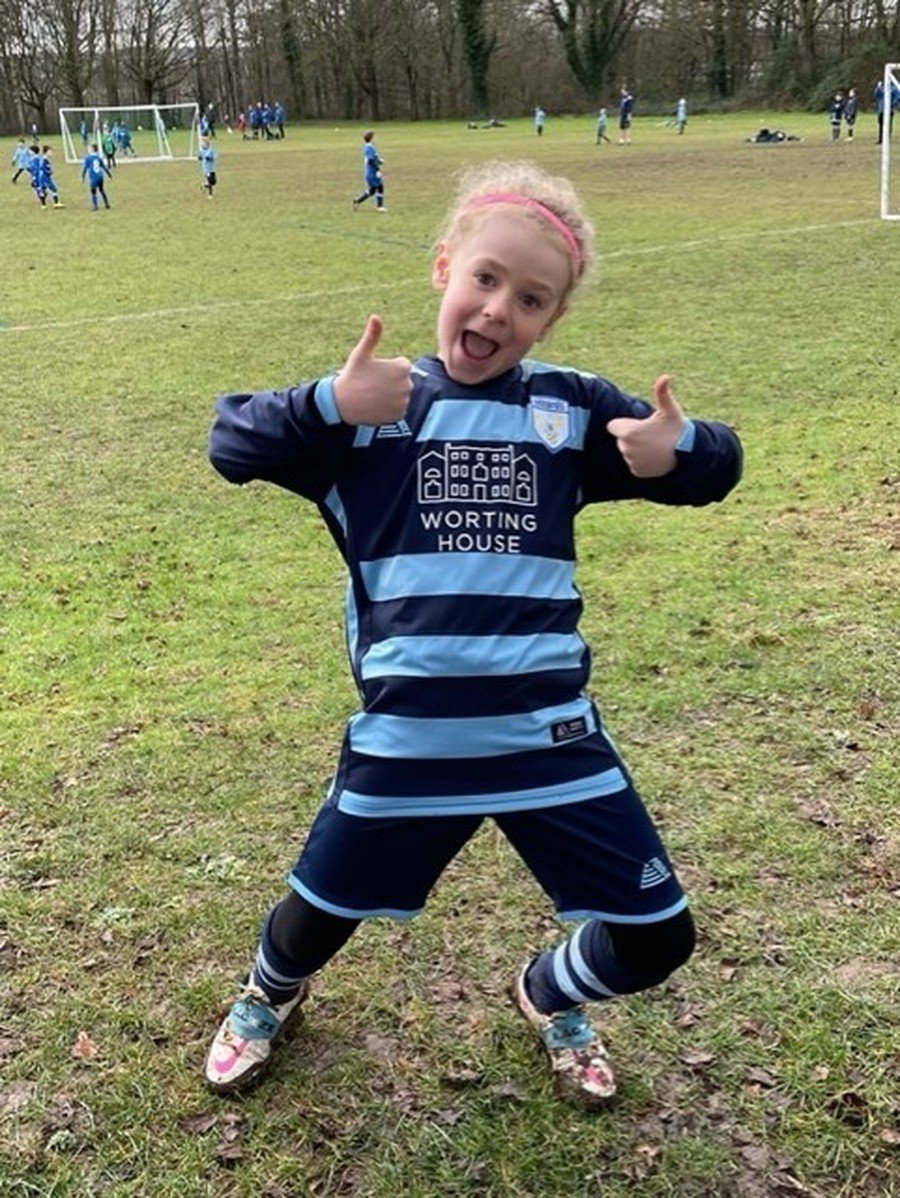 Samuel scored a very important penalty for his football team at the weekend. It was also his very first match goal! As you can see he was super happy. Well done Samuel. What a super achievement! I bet you, and your team, were overjoyed!
Week Beginning Monday 17th January 2022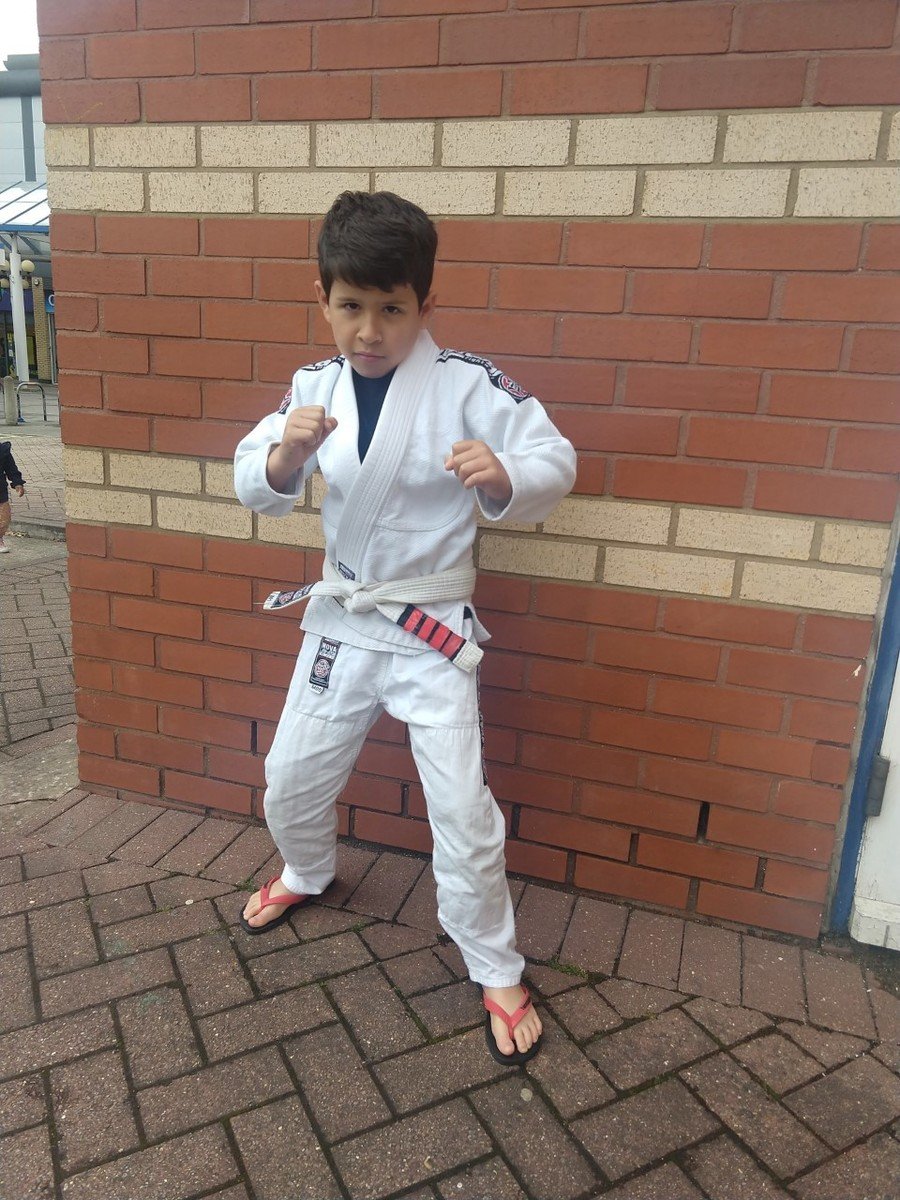 Here's a photo of Gabriel, who is doing a great job in his Brazilian jiu jitsu classes and is very proud of his achievements! Fantastic work Gabriel- keep up the great work. You look like an expert in this picture!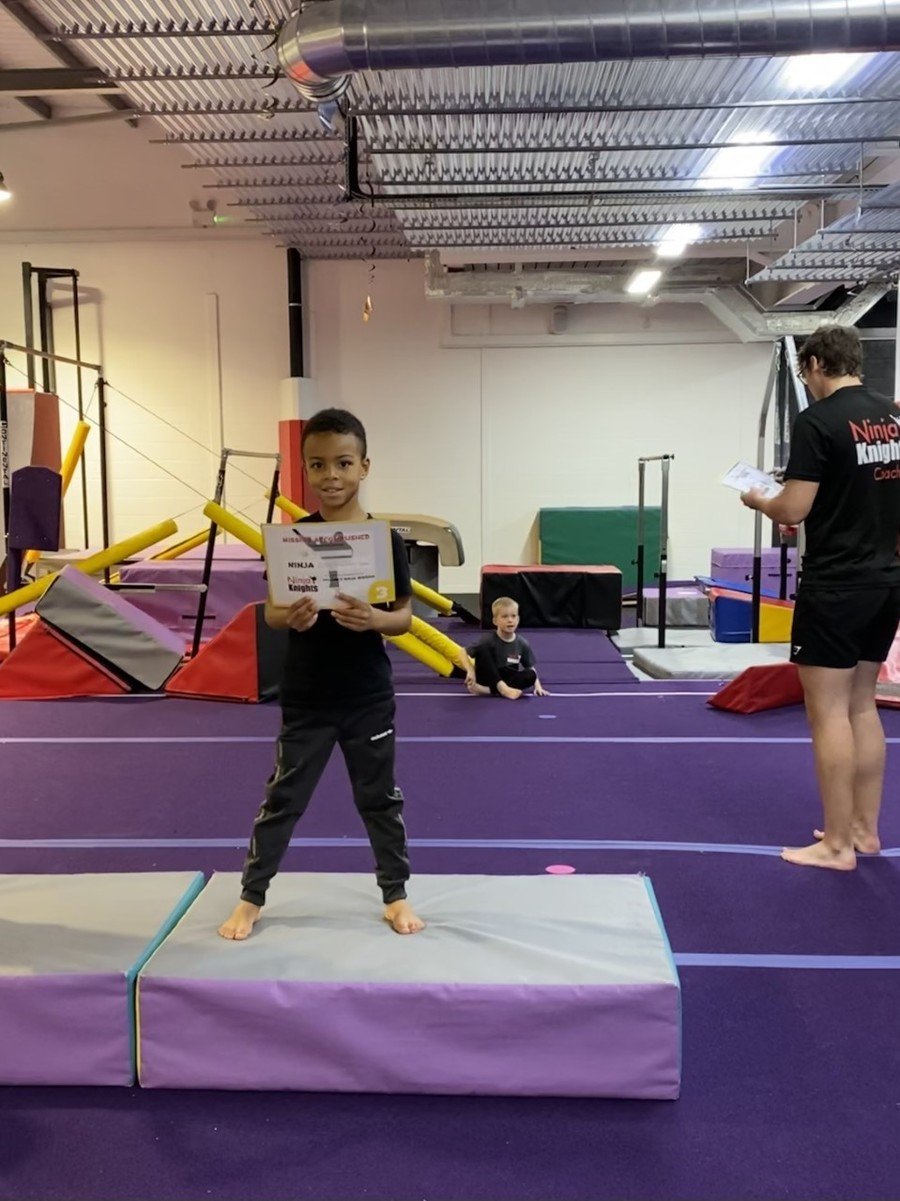 Rome received his level 3 Ninja skills certificate just before Christmas. Well done Rome- this is amazing and what a great photo!
Week Beginning Monday 10th January 2022
Alessia is passionate about dance and is taking ballet lessons. She was awarded the Commendation for her medal test dance in November 2021. She received both a medal and a certificate. Well done Alessia. What an amazing achievement!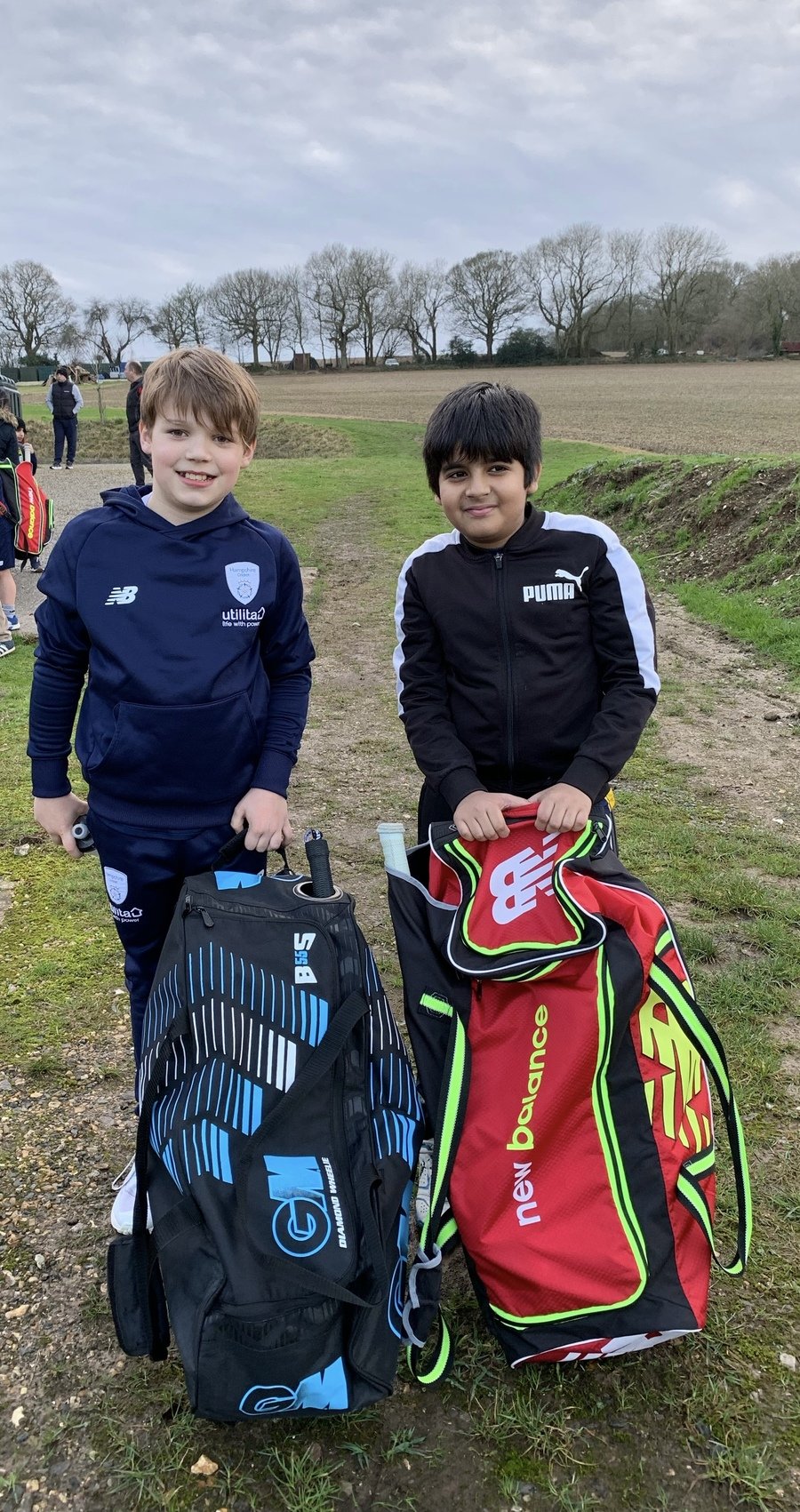 Mark and Ibrahim were both selected to be in the North Hampshire Regional Performance Centre for Cricket this winter. Only 23 boys were selected across the North of the county following trials after being nominated by their club. They train every Sunday with the district in addition to their club training. Well done boys- you must have worked so hard. We can't wait to hear how you get on.