Thank you for the donations
Thank you for the donations
22 March 2020 (by admin)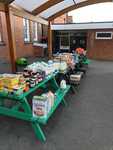 Dear Fairfields Community,
I just wanted to say a massive thank you on behalf of everyone who will be in school next week. The donations today were overwhelming!
We have enough food to have breakfast for at least two weeks. Not only that, we have some very exciting jams to look forward to!
Thank you to the PTA for their donations and also the link to Waitrose who were able to supply us with a huge amount of milk, bread and cereal.
Finally a thank you to Miss Cresswell who made contact with Cel from Global Kitchen. They have donated 30 loaves of bread and other food items.
I feel really honoured to be part of the community and we are all so appreciative of the support we have. The Basingstoke Gazette will cover the story in the news in the next few days. It is rare to find such support in challenging times and I think we have truly shown how amazing we are as a community.
Kind regards
Miss Kelly Dillon