Fundraising Update
Fundraising Update
7 July 2019 (by Michelle Rees (michellerees))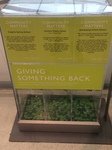 We have been selected as a community matters good cause at Waitrose.
Please Help our fundraising by encouraging everyone to shop at Waitrose and put their tokens into our library fundraising box. The more tokens we get, the bigger the donation we receive from Waitrose.
We have also been lucky enough to be given a £1500 grant towards our library from Four Lanes Trust.
Thank you for your support.