Weekly Update 29
Weekly Update 29
8 July 2022 (by admin)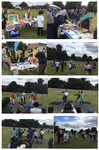 Dear parents and carers,
What a fantastic week we have had in school! Thank you to everyone who came along to support the Diversity Festival on Monday. This was an incredible event which helped to show how powerful we are as a school community. Thank you to Mrs Coolbear and Mrs Smith who helped to organise the event.
Thank you to all of the parents who helped before the event and on the day with stalls and preparing resources. This includes a number of parents who supplied food, dancing demonstrations and henna painting. We are finalising the amount raised which looks to be around £1000.00. This money will go towards the library refurbishment.
Please see some of the photographs taken at the event.
We will be looking to run the same style event next year due to its popularity and the positive feedback we have received.
If anyone would like to donate any further money towards either the library or the playground please visit the school office who are able to accept card payments.
Currently, the library refurbishment will cost approximately £24,000.00 and the new playground will cost £46,000.00. We are reviewing the budget to pay for this directly but it is unlikely that it will all happen in the next academic year unless we have alternative funding.
Year 6 Leavers
We are nearly at the end of another era for our Year 6 pupils. Their last day at the school for most of the pupils will be next Friday as the majority of the children will be on the residential trip for the last week. Please join us to celebrate this on Friday afterschool in the top playground. They will be parading around the playground and choir will also sing them a farewell song.
Holiday activities
We have been sent a number of activities for parents to book onto over the holidays. Please see the attached folder for more information. Please note that we are not endorsing these and simply passing them on for information.
Parent Help Needed
We are seeking parents who are able to provide help in classrooms with preparing resources, cutting, sticking and general activities. This will help if any parents are interested in applying for Support Assistant roles in the future as we will be able to act as references. Please let us know if you are interested in helping with this.
Hot off the press!
Mr Hewlett (our Computing teacher) has been featured in two issues of Hello World magazine for the work and his thinking around sustainability and the use of technology. Please have a look: https://helloworld.raspberrypi.org/issues Issues 18 and 19 include articles written by him.
We are so lucky to have his expertise at the school and helping both us and the pupils develop our understanding of how to stay safe online.
Super Citizens
Well done to our newly nominated Super Citizens. These children have demonstrated our Core values and we are so very proud of them.
Elodie in FS
Aubrey in FS
Emilie in Year 1
Jenson in Year 1
Sophia in Year 2
Aran in Year 2
Aarush in Year 3
Jack in Year 3
Tanvi In Year 4
Clara in Year 4
Isla in year 5
Kevin in Year 5
Daisy-Raine in Year 6
Evie in Year 6
Finally, we are due to have a heat wave next week. Please ensure that your child is wearing sun cream and has a water bottle in school. Staff and pupils will also be allowed to wear PE uniform if they prefer. Please ensure that this is the new uniform or a plain white t-shirt and black or grey shorts or tracksuit bottoms.
Have a wonderful weekend!
Miss Kelly Dillon
Headteacher