Weekly Update 13
Weekly Update 13
14 January 2022 (by admin)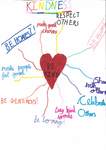 Dear parents and carers,
This week seems to have flown by!
In our assembly today, we talked about World Religion Day, which is on Sunday 16th January. We discussed the similarities between the four main religions (Christianity, Judaism, Hinduism, Sikhism, Buddishm and Islam). This is important for us as we have such a diverse community with over 37 languages spoken in our school.
One of the things that brings us together in our school is our Core Values, which are also present in all of the religions.
During the assembly, we reminded ourselves of how we can show love to one another in the school through our actions. Esme in Year 3 has made a poster (see image) to help us to remember these things.
Celebrating our Pupils
Thankyou to the parents who have sent in information about their child's achievements outside of school. The webpage is now live and can be viewed by clicking here. Please do keep sending these in each week!
We are also pleased to announce the following pupils who have been nominated as Super Citizens to start the year! Well done to:
Ezra in Paris class
Phoebe in London class
Nihitha in Warsaw class
Gargi in Rome class
Amelie in Budapest class
Ruth in Madrid class
Finley In Kathmandu
Assia In Ankara
Reuben In Canberra class
Toby in New Dehli class
Malachi in Nairobi class
Tessy in Cairo class
Maksim in Lima class
Zenia in Ottawa class
We have also nominated pupils who will help to keep our school a safe place as Anti-bullying Ambassadors. These pupils will meet Miss Young each week on Wednesday, to look at how we can support anti-bullying within our school:
Yavon in Ottawa
Finn in Madrid
Elisa in Nairobi
Cairo in Kamilla
Penny in Kathmandu
Maxine in New Delhi
Alex in Canberra
Renee in Budapest
Tyler in Ankara
Zyiah in Lima
Staffing in School
Since the start of this term, we have reorganised the way we use the Learning Support Assistants in the school. This will help us to manage staff shortages over the next few months due to COVID-related absence.
This does mean that we will prioritise pupils who have education health care plan (EHCP) and those needing interventions. We will also be contacting parents of vulnerable children to offer them additional support.
This may mean that your child will be taken out of their normal lessons for a short time (up to 30 minutes at the most), to complete interventions which will help them with their work in class. Please do contact your child's teacher if you have any queries about this.
COVID infections continue to be low in the school.
| | | |
| --- | --- | --- |
| | Pupils confirmed positive since returning to school | Members of staff confirmed positive. |
| Foundation Stage | 1 | |
| Year 1 | 0 | 0 |
| Year 2 | 0 | 1 |
| Year 3 | 1 | |
| Year 4 | 0 | |
| Year 5 | 0 | |
| Year 6 | 1 | |
| Other staff members | | 1 |
We will continue to monitor the number of cases in the school and act in accordance with the contingency plan.
Finally, we have planned a number of sessions to help parents to support their child in their learning and also to help us develop our procedures.
Monday 24th January 3:30 – 4pm – Year 1 and 2 parents: All about sentences!
Please do come along to hear about some of the ways we will help your child to secure their understanding of a sentence. There will be things that you can do at home to help your child. This will be held in the main hall.
Please do ensure that you have no symptoms or take a test before attending. You may bring children to this event although it is aimed at parents.
Wednesday 26th January 6-7pm What does the school do to manage challenging behaviour and what is Thrive?
This will be an online meeting where we will share our recently reviewed behaviour policy with you. We hope that you will come along to help sculpt this. The meeting code for this event will be emailed out the day before the meeting as a reminder.
Tuesday 8th February 6 -6:30pm What are MyOn and Accelerated Reader and how can it help my child?
We are holding a Zoom meeting to show you how to use MyOn at home and explain how we use Accelerated Reader at school. The Zoom code you will need is below.
Meeting ID: 993 2376 2002
Passcode: 881205
In the meantime, please watch the link below to show you how you can use MyOn at home. Your child's login and password is stuck in their homework book.
https://share.vidyard.com/watch/6f2MCaN4B1eQNpuVK4QxnF?
Have a wonderful weekend!
Miss Kelly Dillon
Headteacher