Weekly Update 8
Weekly Update 8
19 November 2021 (by admin)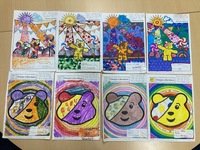 Dear parents and carers,
It has been another busy week in the school! I am certain that you will look forward to next week, where you won't have to consider what your child needs to wear to school.
Thank you for continuing to support each other and for giving us feedback so that we can help to clarify things in the future.
We will soon be releasing the dates for the class assemblies this year. These will take place over Zoom so that as many parents as possible can attend.
Please do check that you have the APP on your phone as this will help with any last minute changes.
Wrap up Fairfields
As the winter approaches, we wanted to help support our community in keeping warm by recycling any outgrown coats or wellington boots.
We have already received a number of coats from a private company, which will be available for parents to keep next Friday 26th November.
If you have any outgrown children's coats or wellington boots that you would like to donate, please send them in by Wednesday 24th so that we can check them and organise them ready for Friday.
The coats and wellington boots will be displayed in the top playground on Friday 26th November from 3:10pm. Please do take this opportunity to help every child in the school to stay warm this year.
PTA Winter Fair
The PTA are busy preparing for the Winter Fair which will take place on Wednesday 8th December from 4:30pm to 7:30pm.
During the event, children in all year groups will be singing carols. This will be timetabled to help you schedule your visit to the Fair. The timetable will be sent out next week.
Your child does not need to perform but this will be in place of the end of year event that normally takes place in the Church. There will also be a chance for you to join in the singing as well. The performances will take place under the canopy.
If you are able to help during the fair please sign up on the Winter Fair website: https://Fairfieldspta.UK.
Please note that the donation for the fair is an object to help with the raffle or tombola games. The list for year groups can be found on the Winter Fair website at https://Fairfieldspta.UK or read the beautifully presented posters on the gates.
Thank you to Peach Barnes and her family for putting so much energy behind the event!
Translation
We are proud to announce that there are over 36 different languages spoken by the children in school. This is so impressive and we want to help to communicate with all of the parents. For that reason, I wanted to draw your attention to the translator bar on our website.
If parents select whichever language they speak – the entire website will then be translated. This is the reason the News and Notices are posted onto the website. If they were put into a separate document, the entire document would need to be translated each time.
Please spread the word to any parents who are confused by notices or communications as this may help them.
COVID Update
| | |
| --- | --- |
| Year Group | Number of cases in the last ten days. |
| Foundation Stage | 0 |
| 1 | 0 |
| 2 | 1 |
| 3 | 0 |
| 4 | 1 |
| 5 | 0 |
| 6 | 0 |
We have had confirmation of two cases in the school in the last ten days as in the table below:
Children In Need
Thank you to everyone who donated money to Children in Need. We will be able to ahre the total raised at the beginning of next week once all of the money has been counted and banked. We had over 100 children take part in the colouring competitions. It was extremely tricky to choose the winners and I had to have help from visiting teachers to the school but the final winners are:
Shrita and Hudson in the Foundation Stage competition
Mya and Jenson in the Year 1 and 2 competition
Izzy and Callum in the Year 3 and 4 competition
Emily S and Isla R in the Year 5 and 6 competition
I will show their entries in assembly on Monday and they will receive their prizes.
Finally, I wanted to share part of the speech that was read out during the Muslim Friday Prayer this week:
The Smile
Smiling at someone else is the fastest way to win their love and friendship. Someone who always smiles is loved by others.
So why not smile at your friends, family and the people around us? It will them, and you, feel much better.
'You will not satisfy people with your wealth, so satisfy them with your cheerful faces and good morals'.
Have a fantastic weekend and keep on smiling.
Miss Kelly Dillon
Headteacher