Weekly Update
Weekly Update
17 January 2021 (by admin)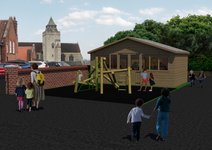 Dear Parents and carers,
We have had a good week both in school and also with the children accessing remote learning. Thankfully, we have only had one case in school so far and we look forward to the Year 6 group and staff returning on Monday.
Thank you for all of the positive messages you have sent us this week, they have been well received in what has seemed like a longer week than normal.
We are asking pupils in school to bring in their PE kit on Monday and leave it in school for the week. This is because we have a range of activities that we want children to take part in and to save you having to wash it each time.
We are looking at planning permissions for the old virtual pond part of the playground. The first thing we need to have done to the area is the drainage solved so that it does not flood any longer. We are then hoping to raise funds for the picture attached to this news item to be installed.
We have considered the outdoor gym but the ongoing maintenance and insurance would be unsustainable. The climbing frame will be for the children to investigate and will be taken to School Council to decide upon.
The outdoor classroom would become a therapy room for pupils with social emotional and mental health needs, as well as a space where ELSA sessions can take place.
The cost of this will be around £18,000.00 and so we will be looking for ways to raise these funds. If parents have any suggestions, please email Sara Deed (Chair of the PTA) at fairfieldspta@gmail.com.
We are hoping to have this in place before the end of the academic year.
We have received an update from the DFE with regards to vouchers and food parcels for pupils entitled to free school meals. They have agreed to relaunch the voucher system again. Whilst we wait for this to be started, we will still be providing food parcels for families. We have bought a number of tinned products to subsidise what the caterers are providing.
Please do come and collect a parcel for your child on Monday between 11- 11:30am. We will be waiting for you with the parcels under the canopy in the playground. Please also collect them on behalf of another family if they are unable to attend.
Finally, we have received the following message from Spotlight who are a local charity that we work with:
"CALLING ALL 8-16 YEAR OLDS. HOW DO YOU FANCY WINNING SOME AMAZING PRIZES INCLUDING PONY TREKKING EXPERIENCE OR JUNIOR CAR DRIVING EXPERIENCE OR AMAZON ECHOS.
Every Monday afternoon around 3.30 pm during lockdown check out Spotlight UK's Basingstoke Facebook page for our weekly challenge. This will be a mix of quizzes and challenges and the best scorer will win one of our great prizes on a weekly basis. If more than one child gets the top score then the winning entries will be put in a box and a winner will be picked at random..."
We look forward to another great week at home and at school.
Best wishes
Miss Kelly Dillon
Headteacher