Winter Reading Challenge
Winter Reading Challenge
11 January 2021 (by Michelle Rees (michellerees))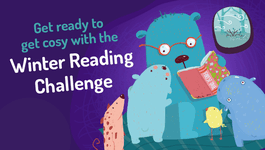 The Winter Reading Challenge was launched today.
Sign-up online and read or listen to any four books by Saturday 27 February. This can include books you read or listen to together, bedtime stories, non-fiction books, ebooks and audiobooks.
Every time you finish reading a book, fill in your personal Winter Reading Challenge reading record. Tell us how many books you've read, what the books are called and who they are by. If you want, you can let us know how much you like them too.

You'll automatically be sent a completer's certificate when you've reached a total of four books in your Winter Reading Challenge reading record. We'll send you emails along the way, every time you add a new book to your record.
Find the links on the school library section of the website (pupil pages - school library)