Year 5
Welcome to Year 5. Please check here for latest updates. We hope that we can build many memories before the children move into Year 6.
Cairo- Miss Warwick
Nairobi- Miss McGuire
Click here for our Summer Newsletter
Click here for Nairobi's timetable
Click here for Cairo's timetable.
Click here for our summer of Revolutions.
Remote learning 2021
Lesson codes
Lesson 1 9.15 a.m. 931 5984 8515
Lesson 2 10.50 a.m. 945 3852 4401
Lesson 3 1.20 p.m. 932 7154 2194
Feedback Friday: 921 7838 6206
Please log onto the Feedback Friday Zoom lesson, for your allocated time slot.
Weekly reading task
War of the Worlds text to read - Pages 8 and 9.pdf
Reading tasks support, stretch and challenge.docx
Challenge text - Challenge - space poem.docx
Monday 1st March
English -
Sample story to listen to - Ben's story.wav
Maths -
Measurement problems challenge task Monday.doc
Other - PSHE
no resources needed
Tuesday 2nd March
English -
R.H, L.C - Storyboard template.docx
R.H, L.C- war of words comic strip. pdf
Tuesday- WAGOLL radio transcript.docx
Tues - Diamond 9 template.docx
Maths -
Tuesday challenge problems.docx
Other -P.E. - Please wear comfortable clothing
Wednesday 3rd March
R.H, L.C - Storyboard template.docx
R.H, L.C- war of words comic strip. pdf
Tuesday- WAGOLL radio transcript.docx
Tues - Diamond 9 template.docx
Maths -
Wednesday stretch and challenge.docx
Other -
Website showing you what is in the night sky:
https://www.schoolsobservatory.org/learn/astro/nightsky/maps
Thursday 4th March
World Book Day - Dress in non-uniform or a book character.
Maths - This will be the first session today.
Transformation assessment.docx
English - Special Zoom session to meet with an author
PLEASE NOTE THAT THERE IS A DIFFERENT CODE AND PASSWORD FOR THIS SESSION. YOU WILL HAVE RECEIVED AN EMAIL ABOUT THIS.
Other - Art lesson with a book illustrator
Friday 5th March - Feedback Friday
How to prepare: Practise reading aloud the poem you write this week as we would love to hear it on Friday.
Please bring along your guided reading work, your English poem, your science work (from Wednesday) and any other work you would like feedback on.
Group 1 session: (9.15 - 9.45 a.m.)
Group 2 session (9.45 - 10.15 a.m.)
Group 3 session: (10.50 - 11.20 a.m.)
Group 4 session (11.20 - 11.50 a.m.)
Group 5 session (1.20 - 1.50 p.m.)
Group 6 session (1.50 - 2.20 p.m.)
Previous messages
For the first two days at home, before Zoom starts, please open pack A and complete the work inside. Here are links to the activities:
Instructions for 2 days of work
Pack A- English and Reading.docx
World Book Day Illustrator Workshop with Victoria Cox
Pupils in Year 5 did amazingly well imitating one of Victoria's illustrations!
Here are some examples of the artwork produced during the day.
Bird Attack!
Zoom went mad today as a series of events unfolded! Miss Warwick suffered from mysterious screen annotations and someone taking remote control of her computer and showing the children funny pictures of her. It was even more shocking when we discovered that Miss McGuire was the guilty party! Finally, a giant parrot visited Miss Warwick's house and attacked her!
Mummification
This week, the children in year 5 witnessed a mummification and then had a go with their own soft toys!
Discovery Art
The children have started to design some art work entitled Discovery based on a painting (Diary of Discoveries) by Vladimir Kush.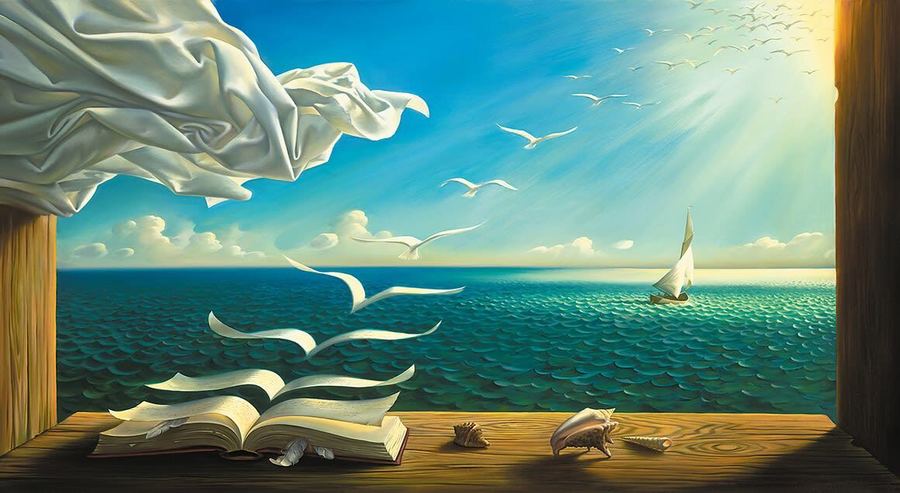 Rivers and The Water Cycle
In Geography, the children are learning about The Nile River, features of a river and The Water Cycle.
This is Avery's model of a river and The Water Cycle, using clay.
Where are our chairs?
The children were very shocked when they arrived on Monday to discover that they were no longer allowed their chairs to use! This led to 400 annoyed children writing to Miss Dillon to ask for them back. Here's Samiyah's letter:
Playground River
We started our new year off with a bang by investigating how rivers are formed. The children were let loose with watering cans to try to recreate what happens on a rivers journey using tarpaulin. We used chairs to recreate the landscape and used multilink to look at the transportation and depositing of objects in a river.