Chinese New Year Celebrations
Chinese New Year Celebrations
7 February 2019 (by Michelle Rees (michellerees))
Happy Year of the Pig!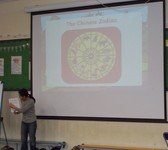 On Tuesday 5th February the whole school celebrated Chinese (Lunar) New Year. This began with an assembly for both key stages in which Angela Wang (a parent from Year 1) explained a little about Chinese culture and the New Year celebrations.
Classrooms were decorated for the day and many classes did the register in Chinese. In Year 1 the children have been learning days of the week and months of the year so whilst they practised they also had a go at trying to write these in Chinese characters!
During enrichment this week both key stages have taken part in Chinese New Year themed activities including making paper lanterns, practising using chopsticks and making dragon decorations.
A massive thank you to Angela Wang for braving the icy conditions to speak to us.
We wish you all a very happy year of the pig!