Visit to Marwell Zoo
Visit to Marwell Zoo
4 December 2018 (by Claire Warwick (clairewarwick))
Year 5 had a very enjoyable visit to Marwell Zoo.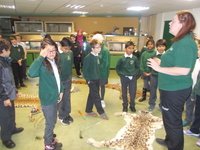 At the end of November, we visited Marwell Zoo to learn about life cycles. We started with a workshop learning about the life cycles of different animals and then met a few creatures. We got to stroke a giant stick insect and a friendly rat!
Afterwards, we had an enjoyable time walking around the zoo looking at the new tropical house and favourites such as the tigers, giraffes and penguins.