Toy Museum opens for visitors!
Toy Museum opens for visitors!
11 October 2018 (by Michelle Rees (michellerees))
Fairfields Toy Museum opened their doors to visitors for a short time today.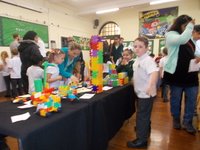 Year 1 children had a great time this afternoon setting up the hall for their toy museum. On display were a variety of toys: old and new, soft and moving, made toys and toy artwork.
The children had a lovely time showing the visitors around their museum.
We think our visitors enjoyed it too...
"Great toy museum, very impressed."
"I love the idea of setting up a toy museum."
"Fantastic museum. Thankyou for inviting me."