River Fairfields has arrived!
River Fairfields has arrived!
25 September 2018 (by Victoria Young (victoriayoung))
To introduce our year 5 topic on 'Odyssey', we looked at the journey of a river by recreating a river on Fairfields' playground.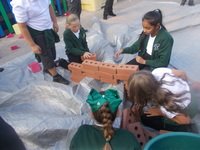 To create River Fairfields, we needed a tarpaulin, a hose and a class of willing children! It was surprisingly windy so the children had to have a good grip. The hose provided the source of the river and watering cans were the tributaries. We had bricks and multi link to represent bridges and we were ready to go! We all watched as our river grew and ventured towards the sea!