Toy Story Treasure Hunt!
Toy Story Treasure Hunt!
25 September 2018 (by Michelle Rees (michellerees))
Where would this treasure hunt take us?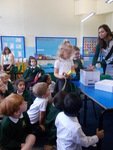 One morning we arrived in class to find a mystery package. Inside were 4 coloured scrolls, one for each house team. We followed the clues around the school until we ended up back in the classroom. What were we looking for? It was a wild goose chase. But....back in the classroom there was one last clue. It sent us to the virtual pond where we found our new classroom toys, Buzz and Woody. We are very excited to welcome them to our classes.